Mo Vlogs Age, Height, Biography, Wiki, Net Worth, Girlfriend, Sister, House, Dad, & Cars. Mo Vlogs is a popular Vlogger & YouTuber who lives in Dubai. Mohamed Beiraghdary known by his YouTube name Mo Vlogs is a YouTube Vlogger who vlogs his life every day and upload on his YouTube channel. Mo first started his YouTube career with his YouTube channel named "HitspecK0" as a gaming channel in 2011, after which he began a new Vlog channel "Mo Vlogs" in 2013 which is most probably why you know him today.
Biography / Wiki :-
| | |
| --- | --- |
| Full name | Mohamed Beiraghdary |
| Nickname | Mo Vlogs (Mo) |
| Date of Birth | March 8, 1995 |
| Age | 28 years (As of 2023) |
| Birthplace | Dubai, United Arab Emirates |
| Hometown | Dubai, United Arab Emirates |
| Profession | YouTuber, Vlogger & Gamer |
| Girlfriend | Narins Beauty (YouTuber) |
| Religion | Muslim |
| Zodiac sign | Pisces |
Date of Birth, Age, Early Life, Dad & Family :-
Mohamed Beiraghdary aka Mo Vlogs was born on March 8, 1995, ( 27 years old as of 2023) in Dubai, the United Arab Emirates to Nadereh Samimi & Esmail Beiraghdary. Mo Vlogs has a sister name Parisa Beiraghdary aka Lana Rose who is also a YouTuber now. It is believed that his ethnicity is Iranian but there is no evidence though his mother usually speaks in Persian Language.
Mo used to live with his family in Dubai when they decided to move to London for Mo and Lana's studies. Mo attended Queensmary University where he studied Mathematics. In August 2015, They moved back to Dubai after completing their studies and now they don't live with Mo's father after moving back as their parents are divorced.
His sister Lana Rose is also popular on YouTube where she uploads make up tutorials & daily vlogs on her Youtube channel name Lana Rose. She has a huge fan following on her Instagram with close to 1 million followers.
Career / Awards & Achievements :-
In 2011, Mo's began his YouTube career as a gamer on YouTube on his channel HitspecK0 which has approximately 97 videos & 8k subscribers. This channel was not successful so In 2013 two years later, he came up with a new channel 'Mo Vlogs'. On December 7, 2014, he uploaded his first ever video appropriately titled 'My First Vlog!'
Mo became extremely popular on YouTube after he started uploading vlogs about supercars. These vlogs have attracted thousands of followers & became very popular on YouTube. Mo Vlogs enjoys filming his luxurious lifestyle with his sister Lana Rose & Mother aka Mummy Mo.
He gained huge popularity on YouTube after he uploading videos like "Rich Kids of the Middle East – The Most Expensive Car Event in the World !!!", "Paying CASH for my New Car !!! " "Racing in my Friends Bugatti !!! ", "THE LUXURY DUBAI LIFESTYLE – BILLIONAIRE BOYS " & "Girl Driving a Bugatti in Dubai !!! ". These videos have 5 Million to 10 Million views on YouTube and as of April 2018, he has around 5 Million subscribers on his Vlogs channel.
Besides a successful vlogger and a popular YouTube star, Mo is also interested in fashion and has launched his official merch with his initials MV. Mo has collabed with many popular YouTube star which includes Logan Paul, Roman Atwood, KSI, Inanna Sarkis, Adam Saleh & many more famous YouTubers. He also has met many famous stars around the world which also include the Bollywood Superstar Salman Khan and the great musician "6ix9ine" who visited his house.
Mo has many rich friends in Dubai like Rashed aka Money Kicks & Saygin Yalcin (one of the Richest Entrepreneurs in the Middle East). He also met the famous footballer Karim Benzema.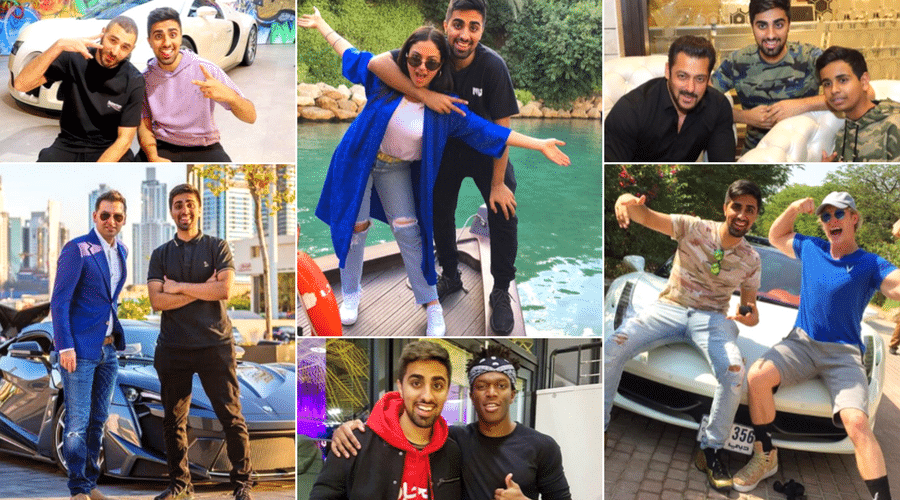 In addition, the YouTuber is also popular for covering a large number of automotive opportunities that have probably been delivered to the owners of supercars in the UAE. So on occasions, for the most part, you see a crazy list of exotic cars like Lamborghini, Ferrari, McLaren, Bugatti, and Pagani.
Recently Mo launched his first official music video "MO VLOGS – FEEL LIKE THE MAN" on his YouTube channel. The music video went viral & was praised by his fans.
Net Worth, Hous

e & Cars :-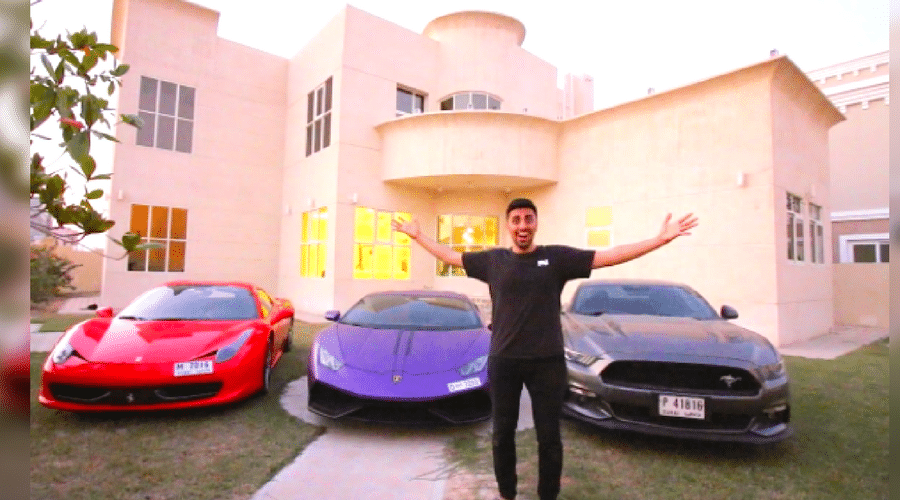 The main source of Mo Vlog's income comes from nds Sponsorship & monetizing from YouTube videos & vlogs. His net worth is approximately around US $6 million. He lives in his own house in Dubai with her sister & mother. Mo lives a luxurious lifestyle from his income & as well as her sister Lana Rose is also a renowned YouTuber. Mo is a luxury cars enthusiast as he owns "Ford Mustang GT California Edition", "White Ferrari 458 Spider" which cost more than US $1 million. Recently he gifted his mum a royal blue "Rolls Royce Ghosts Mansory".
Mo Vlogs' hobby is to collect money as In his videos he usually gets small amounts of money that his fans send to him from different countries. He has notes from Korea, Japan, India, Great Britain, Saudia Arabia, Germany & many other countries.
Mo also has an interest in expensive watches he has recently purchased new watches in his vlogs and each new watch had its own worth. A portion of the watches in the collection are Casio, Levis Watch, Emporio Armani. One of the most expensive watches in his collection includes a Rolex Watch.
Girlfriend : –
Recently, It is rumored that Mo is dating a famous YouTuber name Narin. Narin is originally from Sriya and is a permanent resident of Sweden. Her channel name is Narins Beauty where she uploads beauty and fashion related videos. Her channel has earned more than 2.3 million subscribers.
Favourites :-
| | |
| --- | --- |
| Favourite Food | Burgers, Milkshakes, Deserts & Middle Eastern Foods |
| Favourite YouTuber | Casey Neistat |
| Favourite Cars | Bugatti Chiron, Ferrari & Mercedez G Wagon |
| Favourite Colour | Blue & White |
| Favourite Destination | NewYork, London & Paris |
Figure Measurements , Biceps Size , Height and Weight :-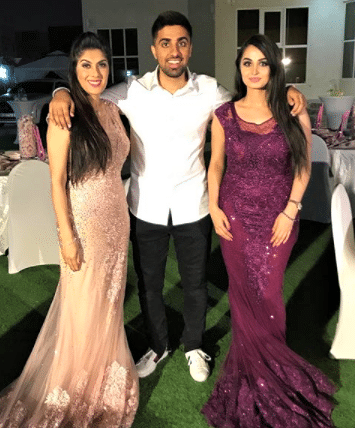 | | |
| --- | --- |
| Hair Color | Black |
| Eye Color | Black |
| Height | In Feet – 5. 9 feet |
| Weight | In Kilograms – 72 Kgs |
| Figure Measurements | |
Lets Learn more about Dua Lipa , Ariana Grande , Ananya Pandey , Kriti Sanon , Robert Seehan & Addisson Rae
Social Media Sites :-